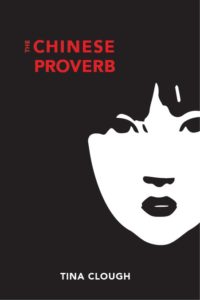 Army veteran Hunter Grant thought he had left war behind in Afghanistan – a conflict that left him with physical and psychological scars. But finding an unconscious girl in the Northland bush and gradually untangling her complex story involves him in a war of a different kind in his own country.
The Chinese Proverb is available from New Zealand book stores, from Fishpond and Amazon.com. The e-book is available from most online e-book retailers.
Hunter Grant series #1
Reviewed by Wendy Scott (Flaxroots)
The minimalistic, but striking cover hints at the premise of the novel; if you save a life you are now responsible for the person you rescued.
Afghanistan war veteran, Hunter Grant, willingly embraces this concept when he finds a stranger near death on his remote Northland bush property.  The mystery deepens when he discovers she'd been shackled and was prepared to die rather than be recaptured by her tormentor; whom she refers to as Master.
By page two I was hooked by the foreboding sense of danger and I wanted to know Dao's backstory of how she'd been enslaved and escaped, and why she was still being hunted.
Emotionally scarred by his war experiences, Hunter has maintained a distance within his relationships with women. Now he has to open up his feelings so he can handle Dao's fragile physical and mental state, and gain her trust so she will divulge the secrets of her past life, before Master tracks her down and eliminates her.
Hunter, places himself firmly in the firing line as they unravel the mystery of Dao's life, but Dao is more than a victim, she's a survivor, who has her own role to play in her destiny. As the story develops the complexity of her character is revealed.
The book pages are cleanly presented in a no fuss style. There's a clearly defined timeline as the story is filtered through Hunter's point of view. Crisp descriptive language visually portrays the rural forest settings and the urban cityscape of Auckland.
Suspense fuels this tightly written and fast paced New Zealand thriller that grips from the beginning.
To listen to the Lynn Freeman (Radio NZ) interview with Tina Clough about The Chinese Proverb, copy and paste this link into your search engine: https://www.rnz.co.nz/audio/player?audio_id=201842033